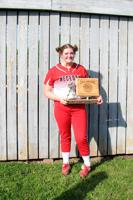 Isabell proudly holds Necedah's Conference trophy she pitched them to
First, a little background information about me. I have been coaching softball since 1998, following my last year playing collegiate softball at UW-Parkside. I moved to this part of the state in 2000 and began my local coaching career in Mauston. After coaching 12 years there, five of them as head coach, I transitioned to Necedah, as assistant coach for one year and this would be my 5th year as head coach.
The first game that came to mind was during our 2018 season. We returned three seniors, one of which was our pitcher, Isabell. She had missed her entire sophomore year following an ACL tear that occurred during basketball. She returned her junior year and showed some spark, but we were really looking for her to be a fairly dominant force in the circle. We played Richland Center in a non-conference game and after doing some experimenting with pitching and positions, lost our first game of the year.
We had finished practice on April 11th, the night before our first conference game against Hillsboro. After practice, I got a call that nobody wants to receive. A friend had called to tell me that Isabell's dad had passed away unexpectedly. After a few more phone calls, I had confirmed that one of my girls had lost her dad way too soon. Our school was very accommodating. Immediately the next morning, we called a team meeting. There was not a dry eye in the bunch. We were leaving it up to the girls if they wanted to play or not. Many were close to Isabell and knew her family well. The girls decided that they would play, and play it for Izzy. They came up with ideas to honor her at the game. Izzy wore her hair in "space buns", basically pigtail buns on the side of her head. The girls needed rubber bands, so I picked them up, as well as a huge order of chicken nuggets from McDonald's. During resource time, they got together, did each other's hair and ate chicken nuggets.
Hillsboro was aware of our situation. They made the trip to Necedah to start conference play. Our girls had Izzy's jersey hanging in the dugout. Our junior pitcher, Mekenzie, had the difficult assignment to take the mound that night, in honor of her senior counterpart. She gave up just two hits, two runs and struck out nine. Our girls totaled 11 hits and 14 runs, finishing the game in five innings 14-2. Amazingly, Izzy made a brief appearance at the game, just enough to say hi and share some tears. This was a gutsy performance by a group of 15-18 year old girls.
The second game happens to be the next game. Thanks to April snow, our next game was not played until April 23rd. Izzy needed some time, at one point wasn't sure if she could come back from such a traumatic life event. With a lot of TLC, she returned, and returned with a vengeance. Izzy took the mound against local/conference rival New Lisbon. This was another home game for us. Not to say that there weren't tears, but she had an amazing performance. She threw a complete game shut-out, allowing four hits and striking out 10 in an 8-0 win.
That was just the start, Izzy went undefeated in conference, 13-0 and our team ended up 14-0, winning its first conference championship since 2006. She was Pitcher Of The Year in the conference. It was a team on a mission, and a team that came together for one of its own. Everything fell into place for us that year and the softball gods were on our side. It just shows that teams can come together during a difficult time and find some light during a very dark time. Very fulfilling as a coach to see what those young ladies accomplished!
Publisher' Note: The next Memorable Game story will get posted tomorrow. It' will the one from Ron Fredrickson the head coach at Marathon.